Unbeatable apple muffins to unofficially kick off the season!
Although it's not technically fall, post-Labor Day is as close to fall as we're going to get right now. And oh am I excited for fall food 🙂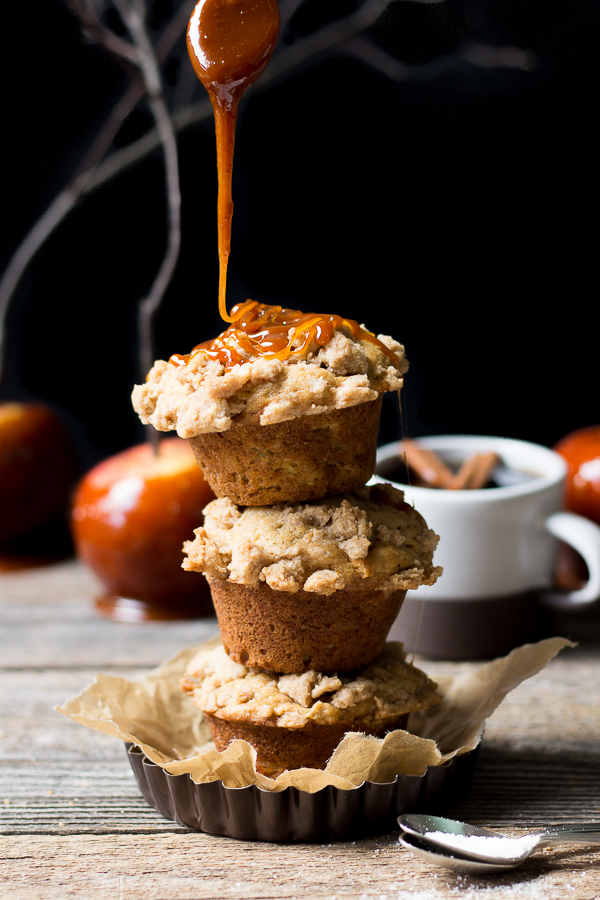 To kick off autumn here on Food Finessa, I'm introducing you to these Salted Caramel Apple Crumb Muffins that are by far my favorite muffins right now.
As you may or may not know, I moved into college last Saturday, September 2 and am currently writing this post from my dorm room. I finished all my classes for today and decided to post this recipe today since it's gloomy outside, and I am kind of stuck in my dorm room.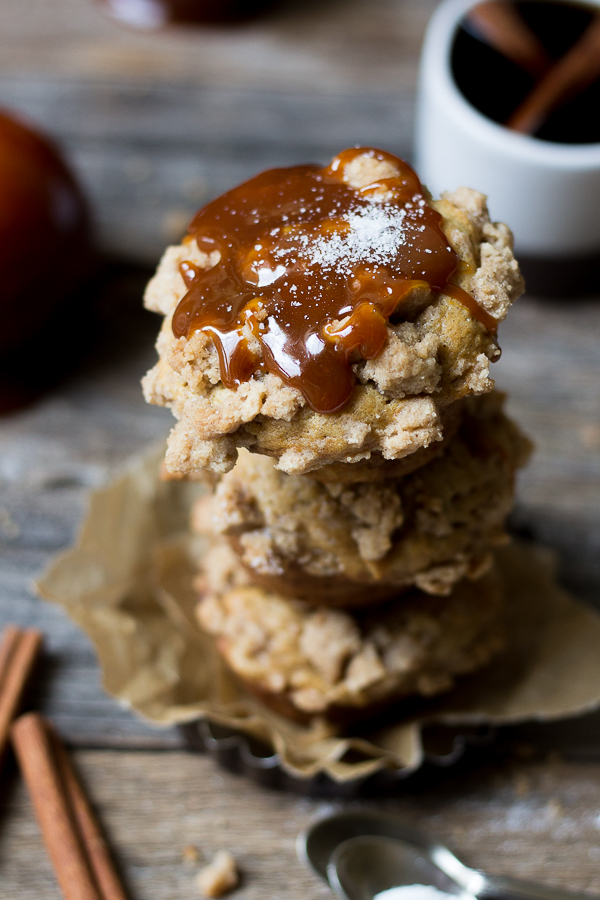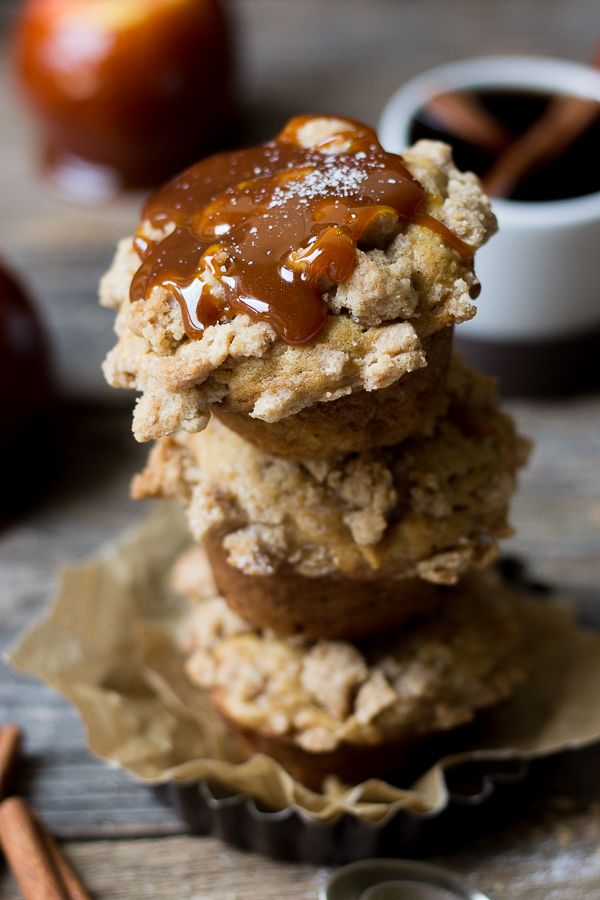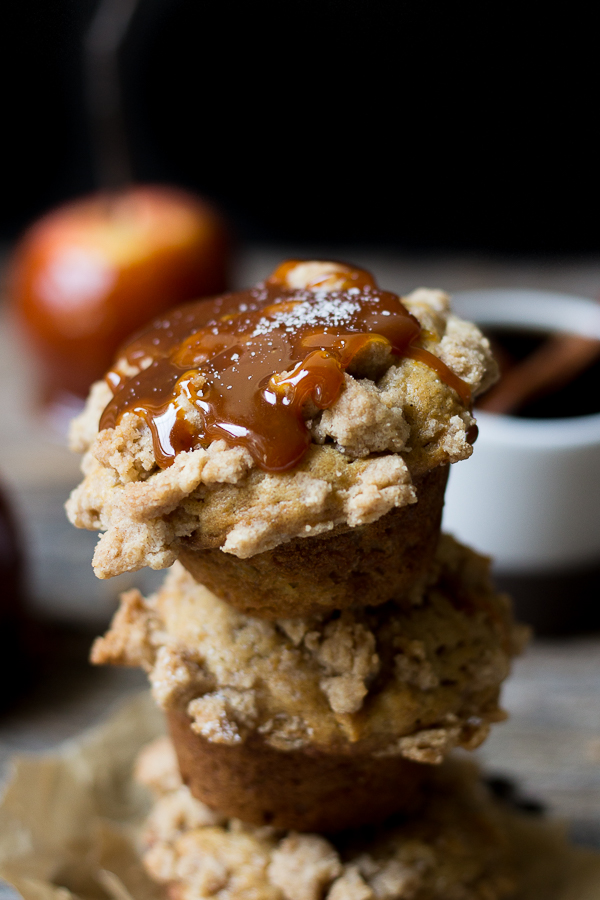 There's something about apples and streusel that is so warm, comforting, and altogether delicious, and I think we can almost entirely contribute all of that to the cinnamon in the streusel AND in the muffins. Can you tell cinnamon is my favorite spice? 🙂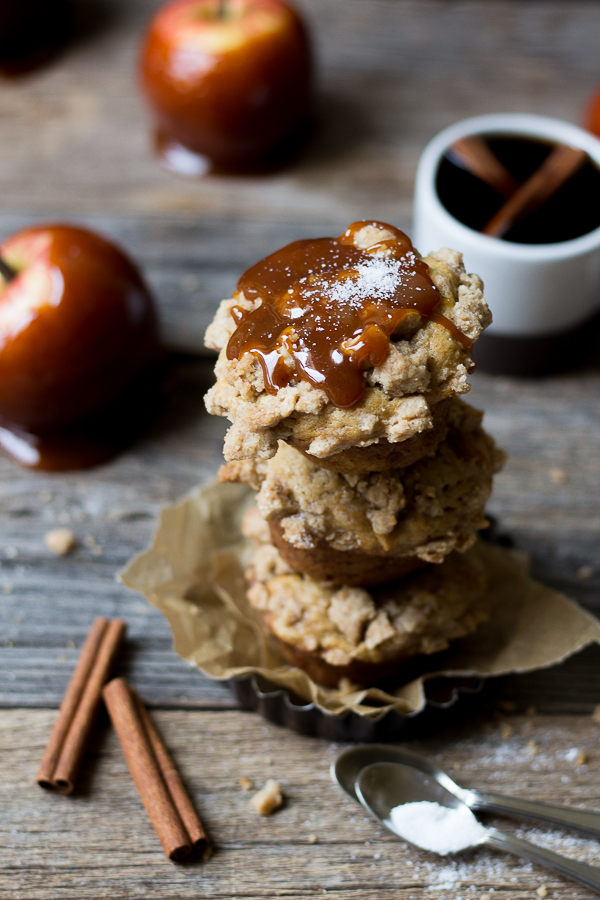 For the record, I decided to begin the autumn season on Food Finessa by presenting you with one of my favorite recipes of the season that I have made so far. You can also expect a super comforting pasta recipe, a refreshing autumn salad, a beautiful rustic layer cake, and many, many more recipes to come.
If you make this recipe, be sure to tag your creation with the hashtag #foodfinessa.
Salted Caramel Apple Crumb Muffins.
Ingredients
Crumb Topping
3/4

cup

all-purpose flour

1/2

cup

light, packed brown sugar

2

teaspoons

ground cinnamon

1/4

cup

unsalted butter, melted
Apple Muffins
1/4

cup

canola or melted coconut oil

1/4

cup

unsweetened applesauce

1/2

cup

light, packed brown sugar

1/4

cup

white, granulated sugar

2

large eggs

1/2

cup

plain nonfat Greek yogurt

1

teaspoon

vanilla extract

1-1/2

cups

all-purpose flour

1

teaspoon

baking powder

1

teaspoon

baking soda

2

teaspoons

ground cinnamon

1/2

teaspoon

salt

1/4

cup

milk

(any type)

2-1/2

cups

macoun or any red apple, peeled and shredded
Salted Caramel
2

cups

white, granulated sugar

6

tablespoons

unsalted butter, cold and cubed

1/2

cup

whole milk or heavy cream

2

teaspoons

coarse sea salt
Instructions
To make crumb topping, in a small bowl, whisk together flour, brown sugar, and cinnamon. Fold in melted butter until all ingredients are evenly coated in the butter. Set aside.

Preheat oven to 350 degrees F. Grease or line a muffin tin with cupcake liners.

In a large bowl, cream together oil, applesauce, and sugars. Beat in eggs, yogurt, and vanilla extract. Beat in milk. Fold in flour, baking powder, baking soda, cinnamon, and salt. Fold in shredded apple. Scoop about 2-3 tablespoons of batter into each muffin mold. Bake muffins for 15-20 minutes or until a toothpick inserted in the center comes out clean. Allow to cool.

To make salted caramel, in a small saucepan over low heat, melt white sugar until a light golden brown color. Add in butter, 1 to 2 cubes at a time. The sugar will bubble and sizzle. Add in milk or cream, and whisk until well incorporated. Remove from heat. Drizzle caramel on top of muffins and sprinkle each muffin with the sea salt. Eat!